The Hellenic Ministry of Labor and Social Security created for the first time a digital platform with the name "REBRAIN GREECE" for the development of a mechanism for strengthening talents and connecting scientists -workers, who reside inside and outside Greece, with jobs of highly skilled and specialized occupations offered by private sector companies operating in Greece.
The registration of qualifications and skills requested by businesses will be carried out based on the European classification for skills/abilities, qualifications and occupations (European Skills, Competences, Qualifications and Occupations – ESCO). ESCO is the multilingual classification of European Skills, Competences, Qualifications and Occupations and part of the Europe 2020 strategy. The ESCO classification identifies and categorises skills, competences, qualifications and occupations relevant for the EU labour market and education and training. It systematically shows the relationships between the different concepts.
In this way, drastic measures are taken for the repatriation of the young worthy workers who left the country, so that they can be discovered and re-attracted to Greek companies.
Also, what is aspired to is to create a modern hub for connecting the supply and demand of highly skilled workers, but also to stimulate the regions of the country that have lost talent and workers, which has caused a rapid "deforestation" of the local labor market, condemning both urban areas to job withering but mainly the provincial fabric.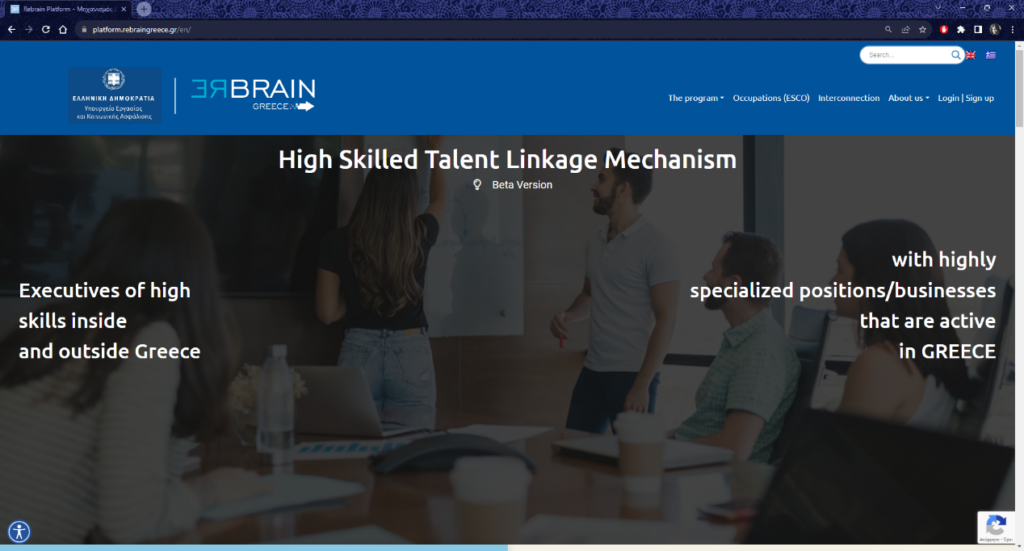 As is referred to the official website of the "REBRAIN GREECE" (https://platform.rebraingreece.gr/en/ ) , "The purpose of the Mechanism for the Liaison of Experts and Researchers (EEE) with Companies operating in Greece is the interconnection of the two parts of the labor market, the valuable human capital and the companies. This is now achieved digitally by our platform, through the publication of the requested High Specialization positions with ESCO coding by the companies in the Greek territory and the expression of interest for a specific such position by the EU.
Through the digital interconnection of the platform we achieve the strengthening of the competitiveness and extroversion of the Greek labor market in a hybrid way, since in this way intangible human capital of high speeds and cognitive power is integrated in the Greek ecosystem, which transfers know-how work experience, high management capacity customer portfolios and a forward-looking culture and business mindset (growth mindset) from abroad.
Accumulated business readiness (TRL) that can be channeled into the workplace through visionary employers and transformed into collective achievement, in order to increase the skills of their employees, but also to improve organizational efficiency, productivity, extroversion and future dynamics. of their business".
The Hellenic Ministry of Labor has already started the "open consultation" procedure which will end on Friday, September 8, 2023 at 1:00 p.m. and its content has been posted at the following address:
Sources: